SENSIBIO H2O 850-ml – Product withdrawal and voluntary recall information
Montreal, Quebec, March 4th, 2022 
We have noted a microbiological nonconformity that may affect some products of Lot No. 22414H of the 850-ml size of BIODERMA SENSIBIO H2O micellar water the "Product". This is an isolated incident. No other product [formats or lots] of the SENSIBIO H2O product line, or the BIODERMA brand, are affected by this measure.
 
The health of our consumers is our primary concern. To ensure the quality requirements of our Product, and out of an abundance of caution, we are proceeding with the withdrawal and voluntary recall of all the units of Product in this lot.
 
How do I know if I'm in possession of the product subject to this recall?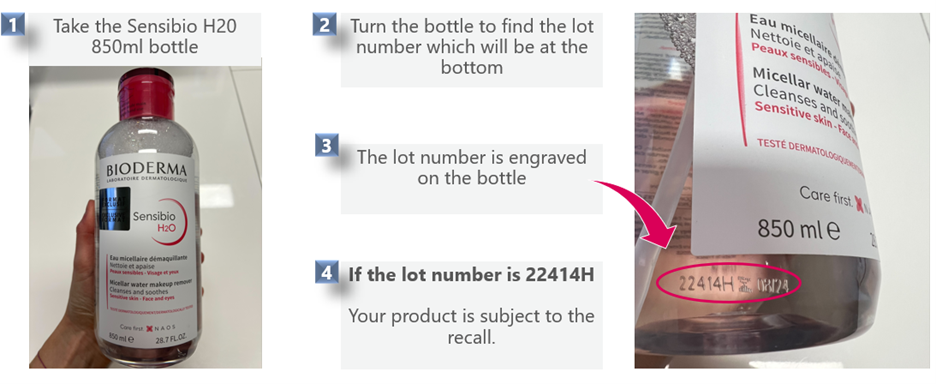 What should I do if I have a recalled product? 
If you have product(s) that match the batch number 22414H, you can return it to your local Shoppers Drug Mart for a full refund.
In which regions of Canada were these products distributed? 
Products were distributed exclusively through Shoppers Drug Mart at locations across Canada. 
 
Are BIODERMA product safe for use? 
Yes, because at NAOS, the health of the consumer is our primary concern, we impose alert specifications that are 10 times lower than what is required by the regulations. The quality of our products is rigorously controlled at each stage of product design and manufacture. We are very sorry about this incident, and we have immediately put in place corrective actions to prevent this from happening again.   
For more information contact: 1 514 270 3763
Media contact:  Justin Meloche:  Jmeloche@national.ca